Weekly Market Review & Analysis For July 20, 2020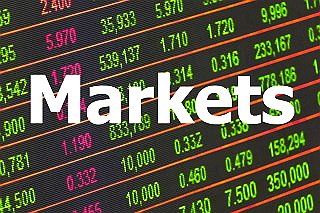 The market this week started with a mega-capitalization rally that drove the Nasdaq Composite index to new heights; however, the remainder of the week saw capital move out of these stocks; as a result, of earnings postings. 
The Nasdaq Composite finished the week on the negative side with a 1.3% loss for its second consecutive weekly decline, followed by moderate declines in the DJI Average with -0.8%, and S&P 500 index with -0.3%, and the small-cap Russell 2000 print -0.4%. 
The S&P 500 sector market gave a more mixed outlook. The information technology posted -1.5%, the communication services sector posted -1.1%. Core health care sector with the print of -0.7% underperformed the benchmark core index, while the energy sector posted +2.1% gain, the financials sector showed +1.3%. Consumer discretionary sector printed +1.3%; these were the sectors that rose more than 1.0%.
Within the mega-capitalization, Tesla and Microsoft reported better-than-expected earnings outcomes, however, failing earnings effects seemed to cause concern regarding similar responses in Alphabet, Apple, Facebook, and Amazon when they publish numbers given their tremendous runs off from their March lows.
Amazon Inc., which rose 8% on Monday following its price mark, was increased to a Street-high of whapping $3,800 by Jefferies and Goldman Sachs; nevertheless, it concluded the week higher by posting +1.6% gain.
Intel, on the other hand, disappointed the market participants with a six-month delay in its highly tooted next-generation 7nm chip technology, carrying shares downwards of 16% on Friday. On the contrary, Advanced Micro Devices (AMD) increased 16.5% on the news story. 
Market action elsewhere

U.S. Treasuries market was mixed this week. The Two-year yield settled unchanged at 0.14%, while the Ten-Year yield dwindled four basis points to close at 0.58%. The Yellow metal futures ended at their highest price ever finishing at $1897.50 per ounce amid a 1.6% drop in the U.S. Dollar Index posting at 94.40.
What a week! The cryptocurrency market was moving in the right direction, as Bitcoin and other cryptocurrencies are showing some significant gains. This week's winner was Ethereum, with an increase of no less than a 16% gain in value compared to last Friday!

Gold and Silver seemed to challenge gravity in this week's sessions, climbing very sharply. Gold rose $89 to close at $1900 while Silver surged $3.27 to finish at $22.76, having topped at $23.25 mark from previous Friday's close.
To sum up, this week's trading put this year gains for Gold at 24% and Silver at 27%. The downside in Yellow metal is limited. However, the upside on Gold at this space and time is unlimited. It is going much higher than people imagine.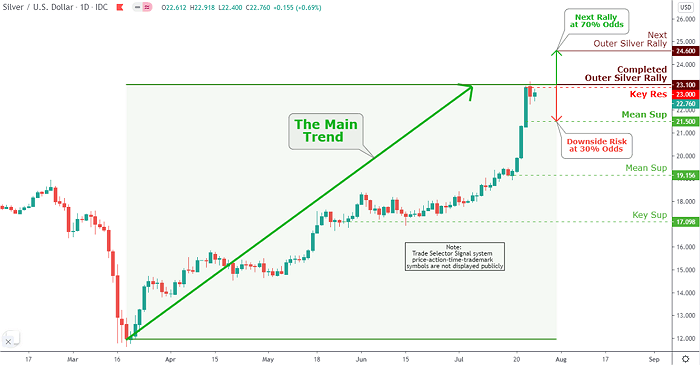 Click the Image to Enlarge
×
Technical Analysis and Outlook: The continuous Silver action keeps the action at completed Outer Silver Rally $23.10 with Key Res $23.00 (Not a TARC) intact in the vicinity. The upside of Silver at this super bull rally is unmeasurable; however, the first swift breakout thrust should be to the next Outer Silver Rally marked at $24.60. The downside of the metal is limited to Mean Sup $21.50.
Overseas markets
Sentiment in Eurozone got a boost when the European Union (EU) bosses agreed to create a coronavirus fund to help those countries most affected by the virus pandemic. 
Nonetheless, all significant stock market(s) declined. German equities held up firmly, while Spain and Italy, the largest beneficiaries of the pandemic fund, both underperformed. 
Most Asian region markets also faded to negative for the week. The Land of the Rising Sun (Japan) spared the late week session sell-off because their markets were closed on Thursday/Friday for public holidays.
---