However, the significant indices cracked their best price levels within the first several minutes of trading, followed by throughout the day decline that sent the S&P 500 and Nasdaq indices into negative territory.
Six sectors out of eleven finished the session with gains reaching from print by real estate of 0.1% to the materials sector of 2.4%. In contrast, the top-weighted vital technology sector posted -1.1% loss, which underperformed from the bell.
Apple stock posted -3.04 or -1.2% loss as other high technology components wrestled in negative territory all afternoon. Chipmakers closed a bit higher of the entire sector, while the Philadelphia Stock Exchange (PHLX) Semiconductor Index was capitulating 0.5% on the day.
On the other side of the coin, the materials sector posted +2.4% gain and energy sector with a +2.0% posting outperformed the others throughout the day. The volatile energy sector was capable of remaining in the green territory, even as crude oil sank into the pit closing, finishing lower with the close of $24.07/bbl or 7.95%. Exxon Mobil gained +0.77, or +1.9%, as announced a 30% cut to its capital spending programs for 2020.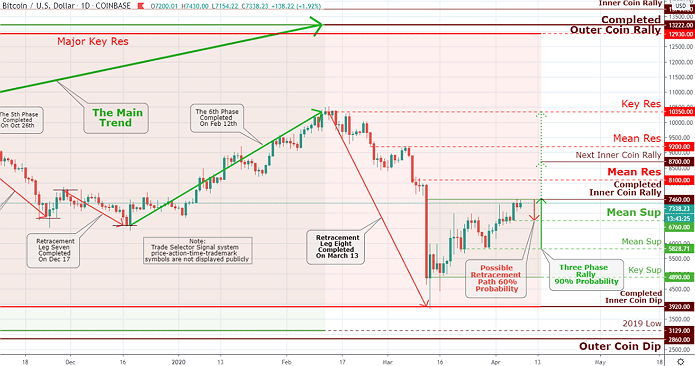 Click the Image to Enlarge
×
Bitcoin completed our Inner Coin Rally $7,460. So, what's next? We do have Mean Res $8,100 to be traded, while the upcoming Inner Coin Rally $8,700 is resting above it with 90% probability. 
Technically speaking, the coin has a great looking chart. The Bitcoin price charts are also showing a minor support level at Mean Sup $6,760 with a 60% retracement probability.