Precious Metals Market Commentary & Analysis November 6, 2019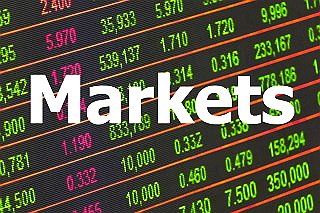 In the precious metals market, Gold fell back below the $1,500 mark yesterday on rising expectations that the United States and China will enter an interim reconciliation on the trade war. Gold closed -26.30 or 1.74%, while Silver was down 0.46¢ or 2.55% closing at $17.55.

Precious metals action

Precious metals action noted Gold's and Silver hit on the chin yesterday, and both are back to a one week's low. The Yellow metal held ground remarkably well in yesterday's session given the stock market, the U.S. Dollar and Treasury interest rates all had a powerful outset to the week. 
A moderate pullback on Monday in each of those assets has extended into yesterday and ahead of October ISM non-manufacturing, and Gold, along with the Silver utterly, could not stave it off a lot longer.  
Furthermore, the chances of an interest rate cut in December have evaporated to a mere 5%. Finally, it's vital to recognize as this is very typically a seasonally more vulnerable time of year for Gold and Silver, and persistence unlocks the door for the late month buying opportunity.
This one is my favorite trading seasonal trading times across the board that has worked like clockwork into the beginning of the new year - January.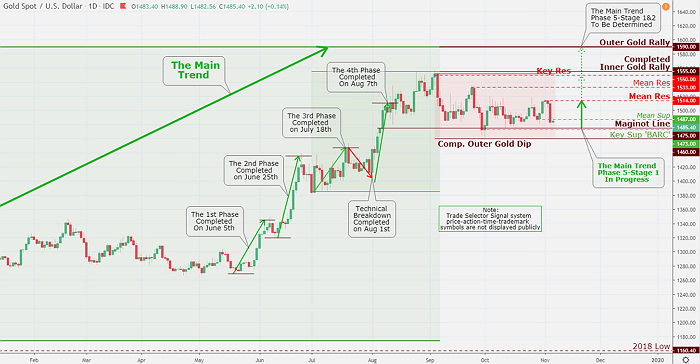 Click the Image to Enlarge
×
Technical analysis and outlook
The precious metals market - Gold could not expand above primary first Mean Res $1,514 while the other two-stars resistance levels Mean Res $1,533 and Key Res $1,550 are looming above. 
Once the Gold began reversing yesterday morning, it took out the first Mean Sup at $1,487 as the heavy selling picked up. The critical support levels now only come in at Maginot Line $1,475 and significant Key Sup $1,473 (BARC). This is a price level that the bulls and bears will once again stage a considerable battle.
Action among other markets
The broader S&P 500 index shed 0.1% to close at $3,075 in yesterday's session in disordered trading that saw more trade-related headlines and an additional boost in U.S. Treasury yields. The DJI Average posted +0.1% gain, Nasdaq Composite index added +0.01%, while small-cap Russell 2000 index printed +0.1% all finishing barely above their flat marks.
Japan's stock market saw an active rally on its return from the holiday break. There were modest rallies in mainland Shanghai, Hong Kong,  and South Korea markets. 
In Eurozone, German stock markets were flat with defensive equities under some high pressure. London's stock market was slightly higher with the energy and mining sectors leading on the day. 
Bitcoin cryptocurrency continues to churn nearby $9,300-$9,400 level. The crude oil did firm above key resistance $56.57 once again with WTI closing just above $57. The Euro Dollar slumped versus the U.S. Dollar, as the yields creep up higher.
---