Weekly Market Review & Analysis For September 14, 2020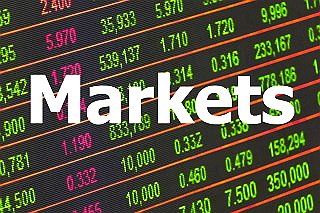 Well, another wicked market this week for the mega-capitalized stocks, although some rotation into value stocks and cyclical did check the index declines. Nasdaq Composite and the S&P 500 index both lost 0.6%, the DJI Average posted -0.03%, and ended slightly below its flat line. The small-cap Russell 2000 increased 2.6% in a catch-up trading.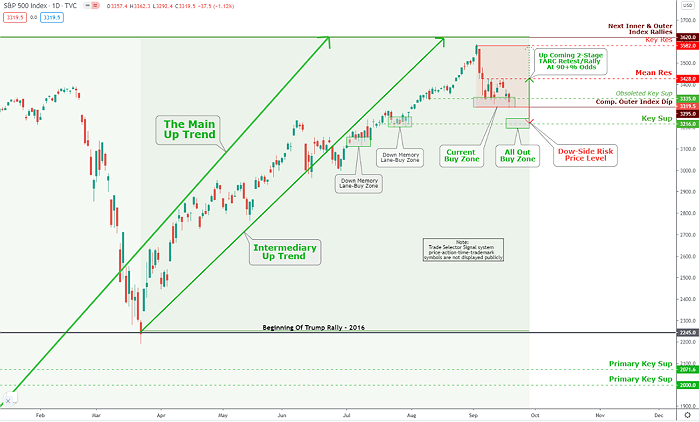 Click the Image to Enlarge
×
Technical Analysis and Outlook: The S&P 500 market broken Key Sup $3,335 and completed Outer Index Dip $3,295 - there is no confirmation with the Trade Selector Signal BARC signal (Not Shown). However, the current buy zone is an excellent entry with the target to strong Mean Res $3,428 mark.
The trading week began on a bullish mark, with the market bouncing from back-to-back weekly drops; however, overall weakness started on Wednesday after the Federal Open Market Committee (FOMC) policy ruling. The central bank did as expected, so one can't blame the Fed this week. Concisely, the central bank kept interest rates unchanged and nodded; they will continue the near-zero threshold through 2023.
The mega-capitalization stocks showed vulnerability way before the ruling and outspread losses throughout the remainder of the week amid rocking valuation concerns after a thrilling IPO from Snowflake, massive options-expiration action on Friday, and reports that WeChat and TikTok will be banned from America downloads on September 20. 
Apple stock declined 4.6% this week, pulling the S&P 500 four sectors into negative territory: the information technology posted -1.0%, the communication services sector posting -2.3%, consumer discretionary sector print -2.3%, and consumer staples sector -1.7%, while the energy sector with +2.9%, industrials sector with +1.5%, materials sector with +0.9%, and health care sector with +0.8% benefited from rotational trading.
The main factors that added to the rotation involved AstraZeneca, which resumed its coronavirus vaccine trials in the United Kingdom, rebounding crude oil prices posted $41.09/bbl, with +$3.75 gain or 10% that supported many energy stocks, upbeat guidance from the steel industry, and General Electric is producing positive cash-flow expectancy - its shares soared 15% this week.
The S&P 500 financials sector with -0.2% showing outperformed on a relative base, although the central bank's acknowledgment of lower interest rates for longer, and profitable concerns, weighed somewhat on sentiment. Citigroup plunged 12% on account of being reprimanded for neglecting to improve its risk-management policies. 
In another market action, NVIDIA acknowledged the acquisition of Arm Holdings from Softbank for a whopping $40 Billion in cash and stock deal, and House Speaker Pelosi reiterated that a stimulus arrangement must be at least $2.2 Trillion to pass. Pelosi's remarks came after centrist legislators submitted a $1.5 Trillion relief package that President Trump said he preferred.
The market action elsewhere
The Gold and Silver metal market continues to bounce around, searching for direction as we end the week. The metal markets live in a wait and see tone following the central bank's non-committal monetary policy response last Wednesday, and before U.S. Congress votes on the next bail-out package deal, The Gold was up $7.50, closing at $1954. Silver is the point of $27.12.
U.S. Treasuries market traded close to its flat lines all week long. The Two-year yield settled unchanged at 0.13%, and the Ten-year yield rose two basis points to finish at 0.69%. The U.S. Dollar Index faded by 0.4% to close at 92.95 for the week.
In Europe, the main concern about Brexit discussions and a phony climactic increase in new coronavirus cases overshadowed a better-than-anticipated German ZEW investor sentiment index. It promoted many stocks to a lower level. In Japan, stocks declined as the Bank of Japan (BoJ), like the Federal Reserve and the Bank of England (BoE) - said that it would keep interest rates steady for a long time coming. 
It has been an excellent trading week for Bitcoin. The coin breached the Mean Res of $11,000 or 9,328 euros for three days - a higher price to follow.
---