Weekly Market Review & Analysis For December 7, 2020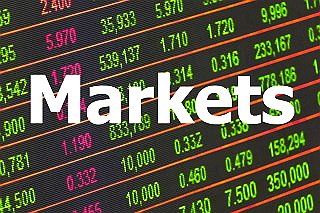 The market indices set incremental fresh highs mid-week, though the stocks grew tired legs at the week's final stage. The small-cap Russell 2000 with +1.0% quietly managed to end higher for its sixth continuous weekly gain. The broad S&P 500 with  -1.0%, heavily loaded tech Nasdaq Composite with -0.7%, and grand-daddy DJI Average with -0.6% finished in negative territory.
One of the most important reported headwinds this week was the fresh supply of stocks arisen form of IPO's and secondary offerings. Airbnb stock exceeding doubled gain in its IPO, DoorDash mounted 85% on its first trading day. Tesla marketed $5 Billion of common stock via an "at-the-market" offering maneuvering program. 
DoorDash and Airbnb were the most massive IPOs market. However, the smaller ones had likewise very bullish reactions, which IPO watchers translated as a sign of speculative zeal that warranted a big time-out. Nevertheless, lingering vaccine expectations and stimulus hope lessened selling interest.  
Nine of the eleven S&P 500 sectors closed the week in the red. The real estate sector lagged with a -2.9% decline, and the robust information technology sector declined 1.4%. The vital energy with +1.1% and communication services with +0.1% were sectors finished higher. 
Notable weakness was also evident among crude oil service equities, as shown by the 1.7% decline by the Philadelphia Oil Service Index. The critical index finished the previous trading session at its best closing price level in nine months.
Separately, U.S. Treasury Secretary Mnuchin offered a new $916 Billion stimulus measure; however, Democratic Congressional power grabbers preferred to center on the $908 Billion bipartisan programs instead. Sadly, both sides proceeded to accuse each other of actual bargaining in bad faith.
Market action elsewhere
The Ten-year market yield declined eight basis points to close at 0.89%, as Treasuries jumped back from recent declines - yields run inversely to actual prices. 
Markets in the Asia region and Eurozone were virtually down. The market in  Shanghai and Hong Kong declined on reports that Americans would sanction more Chinese personnel because of Hong Kong legislators' current disqualification and China's angrily reaction to the U.S. selling of military weapons and equipment to Taiwanese.
Japanese stocks weakened less as household spending and machine orders exceeded expectations and the government declaration of a new economic stimulus bundle.
All significant markets in Eurozone dropped despite increasing economic data and an augmentation of the ECB's (European Central Bank) crisis support programs. With Brexit negotiations failing once again to produce an agreement, U.K. officials say that this Sunday (Dec 13) is the deadline for a deal.
Gold and Silver cruised higher this week as the District of Corruption gridlocked on stimulus money legislation, and investor and traders' main interest shifted to upcoming this week's Fed meeting.
The end-of-year, ups and downs price action in precious metals reflects customary caution that shows in recent years the Gold is establishing a factual basis in and around mid-December (15th) before driving higher towards the end of the year and January.
Bitcoin price has been steadily giving up the ground for the past several sessions, and that has many investors nervous that a steep correction or a bear market compared to the one witnessed in 2018 could happen again. However, there are significant variances between the past bull market and the current one.
The most striking difference is the entry of institutional investors and hedge funds. The most recent institution to have taken a stand in Bitcoin cryptocurrency is the insurance firm MassMutual based in Massachusetts, which lately purchased 5,470 Bitcoins worth approximately $100 million.
Technical Analysis and Outlook
The Bitcoin / U.S. Dollar pair is currently trading inside a completed Outer Coin Dip marked at $17,715. The buyers are destined to defend the Key Support $17,170 level aggressively - Prevalent Buy Zone. Once the price action rebounds off this support/buy zone, it will designate a solid upcoming two-step rally.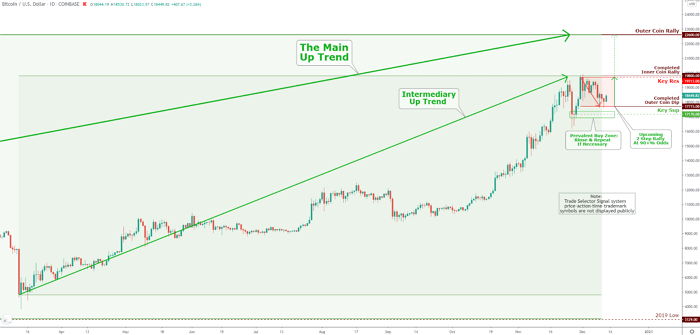 Click the Image to Enlarge
×