China's Gold futures market moved to secure its dominance in the world Gold market as it will co-operate with the Chicago Mercantile Exchange Group to launch two innovative Gold contracts.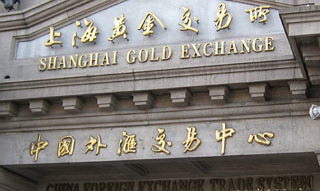 Shanghai Gold Exchange
Last month, the Chicago Mercantile Exchange Group announced that it was awarded a license to produce and list Gold contracts based on the SGE (Shanghai Gold Exchange) benchmark price. 
The two new Gold contracts would represent one denominated in Yuan and the other in the U.S. Dollars and are anticipated to be launched in the Q4 (Fourth quarter) of this year pending regulatory reviews.

"This marks the first step in promoting cross-market cooperation that will connect the global liquidity of CME Group's COMEX Gold futures to the world's largest physical gold market in China through SGE," the Chicago Mercantile Exchange said in its press statement.

Currently, China is the world's most significant Gold consuming and producer nation, while the Shanghai Gold Exchange is the world's largest physical Yellow metal exchange as well.
The Chicago Mercantile Exchange Group said that China is setting itself as a vital trading center in the Asian region Gold market.

"As this regional benchmark starts to attract more interest from investors around the world, the new Shanghai benchmark-based future contracts serve a unique need in the markets, available via CME Group," the Chicago Mercantile Exchange Group announced.
The latest announcement comes as the Gold market has brought renewed traders and investors' awareness. In the very first week of July, the Chicago Mercantile Exchange said that it witnessed record ADV (average daily volume) in its Gold options contracts.
The options trading record was reached by the Chicago Mercantile Exchange as the Gold options volume on June 20th ranked as the second-highest volume day in complex history by trading 199,579 contracts.
Gold futures market insiders and specialists say Shanghai Gold Exchange is shifting China's place in the international Gold market.
The Shanghai Gold Exchange has been the world's most prominent physical Gold exchange since 2007. 
Currently, as the Gold price is denominated in U.S. Dollars, Yellow metal market experts believe that the traditional pricing system can't show the true market condition in various world regions.
Positioning itself for regional and global price stability, the Shanghai Gold Exchange cooperation with Chicago Mercantile Exchange strives to find price results among local members and foreign, who are buying and selling Gold  - physical not a paper.
Currently, the Shanghai Gold Exchange is principally a physical Gold market, its trading Gold futures which will provide real stability of the market supply