Stock Market Commentary & Analysis November 13, 2019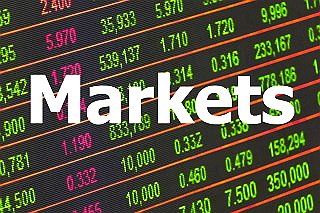 With stock market surging along with the U.S. Dollar, while U.S.  Treasury bonds plunging recently as Gold and Silver metals endure volatile, this is significant in the setting of the largest financial 'Super' bubble world ever blown.
The broader S&P 500 index snipped the $3100 price level (Act surprised) for the first time yesterday, but the new record run dissipated some steam to give the index up merely 0.2% gain and closing below $3100. The DJI Average and small-cap Russell 2000 indices ended unchanged. While the Nasdaq Composite tack on 0.3% closing at a record high.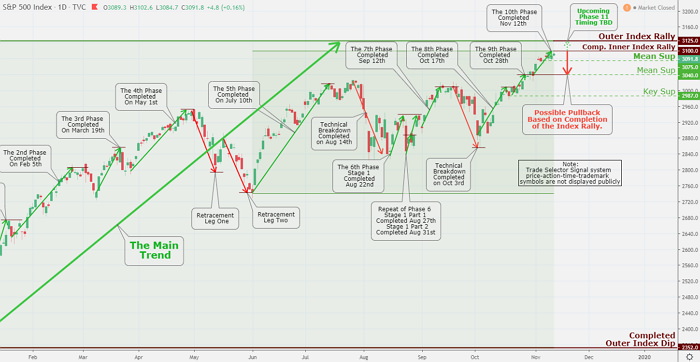 Click the Image to Enlarge
×
The stock market trading session began with each of the eleven S&P 500 index sectors expanding traction in an energy-driven trade agenda ahead of Trump's lunchtime address at the Economic Club of New York. Amidst many conditions, Trump said tariffs on Chinese goods would go up 'considerably' if a trade agreement does not get done, though there was nothing in Trump's speech that caught the market by surprise. 
This lack of absolute catalysts from Trump most likely hindered some excitement among traders and investors, hoping for more real substance in the talk. Buying energy levels started to weaken, though, way before the president's speech as the S&P 500 index ran into Inner Index Rally of $3100 completion/resistance - By the way, projected by Trade Selector Signal since November 2.
Contributing stock market participators

The stock market received some aid from the earnings-driven gainers such as Walt Disney with 1.84 points or 1.4%, Facebook posting 4.86 points or, +2.6%, Tyson Foods adding 6.15 points or 7.4%, DXC Technology tacking on 5.85 points or, +19.9% as well as the whopping increase from Rockwell Automation with 18.81 points or, 10.5% closing. 
The U.S. Treasury market resumed trading yesterday after being closed for observance of Veterans Day on Monday. An uptick movement pushed the two-year yield downwards one basis point to close 1.65%, and the ten-year bond returned negative two basis points to conclude at 1.91%. The U.S. Dollar Index rose by 0.2% to close 98.34 on the day, while West Texas Intermediate crude oil was slightly down $0.12, finishing at $56.77.  

In notable news within the crude oil market was Shell, British Petroleum, Total, and Abu Dhabi National Oil Company, amongst other big oil corporations, are collaborating in launching a Crude Oil futures Exchange in Abu Dhabi. The Intercontinental Exchange (ICE) Futures Abu Dhabi will treat the world's leading Murban futures contracts and also could function as a future benchmark comparable to that of West Texas Intermediate (W.T.I).
In conclusion
The stock market is growing, and there is a hope that the global economic policy climate will be better in the imminent future. However, in the meantime, conflicts such as difficulties for reaching a deal in the trade war conflict between the  United States and China appear continuously on/off.
The United Kingdom's departure from the European Union has noticeably risen. Punitive trade tariffs on automobile imports from the European Union to the United States are also less probable than the forecasts made a few weeks ago - and the beat goes on.
---