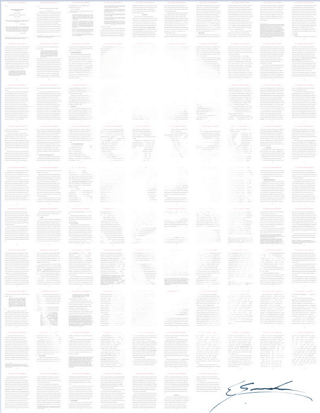 "Stay Free" is a piece of art that combines Snowden's image and a court ruling. An NFT artwork created by Edward Snowden has sold for $5.4 million in Ethereum.
"Stay Free" portrays the NSA whistleblower and exiled American with hand on chin like a modern Rodin statue. However, look closer, and you'll find the image has been formed from the pages of a US appeals court decision that the Patriot Act did not permit mass collection and surveillance of Americans' phone records by the National Security Agency.
While the ACLU won that case, Snowden remains persona non grata in the US for his role in making the NSA's surveillance program public. In 2013, while the computer analyst was contracting for the security agency, he began leaking classified documents to the press. Shortly after being charged with espionage, Snowden flew to Russia, where he was granted asylum, then residency.
Snowden sold the artwork on Foundation, a community-driven NFT marketplace where the Overly Attached Girlfriend NFT sold for 200 ETH, and a Nyan Cat animation earned 300. Those amounts seem relatively paltry to the 2,224 ETH spent on Stay Free, Snowden's first NFT.
"Stay Free" NFT is unique digital tokens that often come in the form of artwork, trading cards, or other collectibles. There is only one edition of "Stay Free," meaning the auction winner, @PleasrDAO (fans of digital artist pplpleasr, who also sells lucrative NFTs), has the only copy of the work.
According to Snowden, "Stay Free" NFT proceeds will go to Freedom of the Press Foundation, a non-profit established in 2012 that develops open-source communication and encryption tools as well as tracks press freedom. As the foundation's president, Snowden serves on the board alongside John Cusack, journalist Glenn Greenwald, and Daniel Ellsberg, the Vietnam-era reporter best known for shuttling the Pentagon Papers to the New York Times.
Curious about online trading? Want to make more money, be highly successful and have positive experiences in the niche? Welcome to TradeSelecter.com, a website that will...
Non Fungible Tokens (NFT for short) are a new form of cryptocurrency that uses blockchain technology. This form of cryptocurrency is used for multiple entertainments, including art...