Metaverse will be the next frontier of the Internet

Metaverse made history on the 29th of November; a virtual land was purchased for a staggering $2.43 million. The sale took place on Decentraland, an online blockchain-based world owned by its patrons, and was paid with cryptocurrency. Take some time to process this scenario.
A rich person has spent money on land in a new city that is only a part of the virtual world - Metaverse. Have trouble understanding this? We get it. We consider it another indication of the disconnection between the market and the actual economy.
This is partly responsible for the record-setting prices we're witnessing across the entire market right now. If you are aware of the right place to search, you'll be able to earn a substantial profit from that divergence. Today, we will reveal what the fuss is about and what it can mean to investors at large.
What's next? a new chapter to the Internet

The first thing you need to be aware of is decentralization, which is part of a more significant trend in the blockchain. The movement is referred to as the Metaverse.
The majority of people first heard about The Metaverse during October. At that time, Facebook President and CEO Mark Zuckerberg announced the company had changed its name. Meta. Here's how Zuckerberg described it:
If you're in the virtual world, then you'll have the ability to experience almost everything you could imagine and more - gather with family and friends and work, learn and buy, play and or create as well as share new experiences that don't reflect the way we view phones or computers today. Zuckerberg also described the Metaverse as "the next chapter for the internet." In addition, he declared that, from the moment on, his business is going to remain "metaverse first, not Facebook first."
Yes, that's right, you heard it correctly. Facebook, the world's largest social media site, has become a "metaverse" company. What is the virtual world? What does Facebook's decision suggest?
Top technologies race to take on a virtual world
In the simplest sense, Metaverse is an online environment where you can - through an avatar - you can "live," work, and even have fun. It's available to everyone. Specific virtual world platforms have established economies, meaning you can purchase and sell items. In reality, as you could have guessed, the world of Metaverse is still an ongoing work.
However, Facebook isn't the only technology company scouting this market. Other leading technology companies are also planning to take advantage of this trend. Check out this chart below. It lists the number of patents for inventions related to the virtual world filed by leading technology companies in recent times.
Although Meta is placing its money where its mouth is, particularly over the last few years in the shadow of companies such as Google, Sony, Samsung, and Microsoft in general, however, here's the most important thing, in the past 15 years, more than 100,000 metaverse-related patents have been released.
This indicates an enormous curiosity about the virtual world among some of the most influential technology industry leaders and its popularity. It's significant as it shows where this field is heading.
People are beginning to notice. Take a look at the chart below the increase in "metaverse" searches on Google (the blue line) against "bitcoin" searches (the orange line) this year. Metaverse is now the latest buzzword across the web.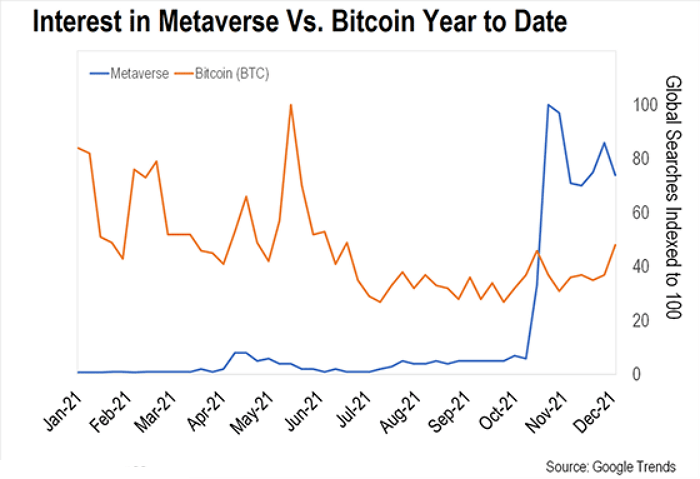 Metaverse bandwagon - All aboard!
With the Metaverse bandwagon, many are doing more than simply talking about it. For instance, the social media star Paris Hilton launched her virtual world on the Roblox game platform. Paris World has large DJ-themed stages. Paris's private island, a residence, a private jet, yacht, and Zoo. 
Roblox has already held virtual concerts featuring KSI, Zara Larsson, Twenty One Pilots, and other artists. Snoop Dogg, the rapper, recently joined forces with The Sandbox, a decentralized virtual world specializing in virtual real estate. The rapper will build his mansion and his Non-fungible token (NFT) collection within The Sandbox metaverse. In addition, he will perform live shows and engage with other players.
These are only a handful of people who have recently jumped on the metaverse bandwagon. We will likely see more big announcements in the coming months and weeks.
In a nutshell
Here is the heart of the matter. Metaverse is in motion, and whatever your thoughts regarding integrating our digital and physical life. It could have significant consequences for your investment portfolio.
Bloomberg Intelligence says the virtual world was worth $500 billion as of 2020 and could be worth $800 billion by 2024. The crypto investment giant Grayscale believes that the Metaverse could soon be worth more than $1 trillion.
This article was printed from TradingSig.com