Weekly Market Review & Analysis For August 3, 2020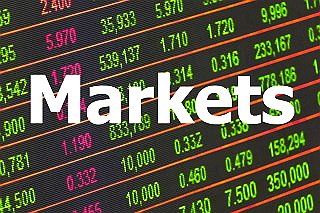 The stock market was strong this week, as the Spooz (S&P 500) closed higher in every trading session for no less than 2.5% weekly gain. The small-cap Russell 2000 index advanced 6.0%, the DJI Average climbed 3.8%, and the heavy-tech Nasdaq Composite lifted 2.5% for the week.
The accumulations were broad-based, with all eleven S&P 500 sectors closing in positive territory. The industrials sector posted +4.8%, financials sector with the +3.3% print, energy sector reached +3.1%, and communication services industry ended with +3.0% gain. All sectors outpaced the benchmark index, while the health care sector with +0.9% and almighty real estate sector print of the +0.7% grew the least.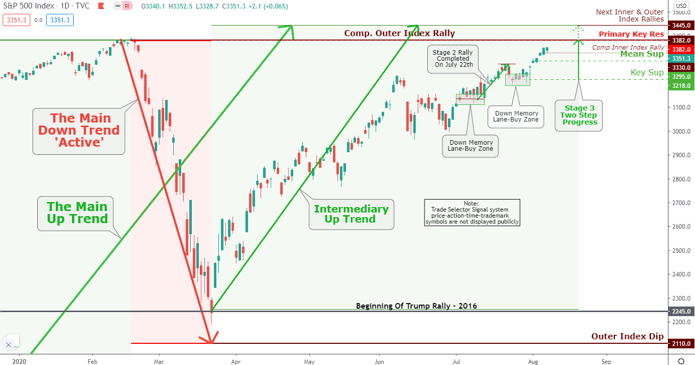 Click the Image to Enlarge
×
Technical Analysis and Outlook: Following Inner Index Rally $3,330 completion, the market is proceeding to a Primary Key Res and Completed Outer Index Rally marked at $3,382. After a brief or more lasting pause (TARC formation development - Completed symbol), a possible pullback to Mean Sup $3,295 will be a 'Game On.' Next Spooz continuation the final step of the Stage 3 Rally to the Inner & Outer Index rallies marked at $3,445, respectively.
The market action
Within the market, the index communication services sector, Walt Disney stock climbed a hefty 11% after announcing a surprise second-quarter profit and posting substantial subscriber aggregates for its flick streaming platform. Facebook increased 6%, as traders and investors pushed the stock prices higher in momentum trading. 
In other favorably regarded corporate news, Microsoft reopened talks with TikTok about an acquisition. Novavax announced a very positive Data for its coronavirus vaccine in a Phase 1/2 test for healthy men and women ages 18 to 59. 
The past week's economic numbers proceeded to paint an improved labor market. Non-farm payrolls rose almost 1.77 million last month. The unemployment rate decreased to 10.2% compared to June data of 11.1%, and initial weekly claims declined by 249,000 to show 1.19 million unemployed for its lowest amount since March. 
Furthermore, the numbers from the Institute for Supply Management noted manufacturing movement and non-manufacturing action continue to increase in comparison to the previous month.
On the political scene, the White House and Democrats settled with no compromise on essential relief provisions and were incapable of striking a deal before the weekend. U.S. Treasury Secretary Mnuchin stated he would advise President Trump to sign executive orders that will extend the eviction halt and enhance the unemployment benefits.
Market action elsewhere

U.S. Treasuries settled modestly lower this week. The Two-year yield rose three basis points to close at 0.13%, and the Ten-year yield grew two basis points to finish at 0.56%. The U.S. Dollar Index progressed higher with poultry 0.1% gain to close 93.41. West Texas Intermediate (WTI) crude oil futures climbed $1.04 or 2.6%, to close over $41/bbl. 
All significant stock markets in Eurozone advanced. Industrial production and Manufacturing PMI overcame expectations across the European markets, especially in Spain, Italy, and Germany.
Most Asian-Pacific stock markets rose after mainland China's private sector manufacturing PMI increased to a nearly ten-year high. Japan equities bettered after its manufacturing PMI was updated upwards to a six-month top.
Hong Kong equities sank after America's WeChat - App ban owned by Tencent Holdings Ltd, which BTW holds 12% of the H.K. Hang Seng Index. Mainland Chinese equities will most likely see further trouble next week in response to the U.S. imposing more sanctions on Chinese officials.
Many investors and traders are nervous regarding the volatility in the precious metal markets, Gold is facing the all-time inflation-adjusted high price for the yellow metal, which is $2,777, and with Silver on fire also. Gold popped this price on January 21, 1980.
Perhaps it is time to relax and have an Original Vermouth martini because the Gold and Silver bull market has a long way to go. It's begun to push the Gold and Silver much higher, or more precisely stated, all fiat currencies much lower. 
---