Market Commentary-December 27
After having a tough four days in the brutal month of Dec, stocks markets staged an enormous rally. The DJI surged   1086 points or 5% the very first time in a single trading session on Wednesday - All 30 stocks within the DJI index notched gains.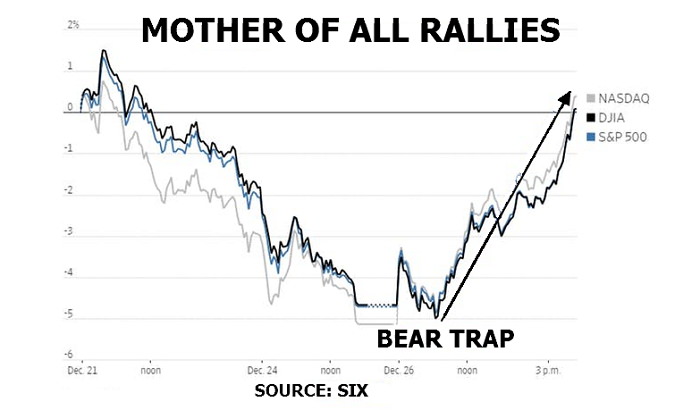 In the S&P500 broader index the 11 market sectors did rise as well - 499 out of 500 stocks went up on Wednesday session. Shares of Facebook, Netflix, and Amazon, soared over 8%, while all retailer stocks rallied as preliminary data on the significant holiday season shopping appeared very strong. 

That aside, I had been quite pleased with the Gold market in the face of an increasing US Dollar as well as rising interest rates, while an almost 9% increase in crude oil prices offered a relief for stocks of the beaten-down energy sector.
Dealing With Bear Market Rallies
Wednesday session had been a classic bear market rally. We have published S&P500 chart on Market Commentary-December 24 stating "The S&P500 index entered bear market territory on Monday with a very worst Christmas Eve trading session of all time, that is percentage-wise, while DJI hangs by just a thread".
Indeed, Virginia, it is a bear market for sure. Count on a lot more trading days such as a Wednesday session, with everyone found trusting "the bottom is in," every step of the way. Remember, bear market rallies are extremely violent, as shown by Wednesday's performance record boost in the DJI.
The very next real bottom level will not be in till most traders and investors utterly disgusted with the stock market and gives up. Demographically-speaking it's going to occur at the worst time for baby boomer's.
Following exhaustion of this stock market countertrend rally, the bear market will return for the DJI, S&P500, and Nasdaq, and then Gold and mining stocks will keep on to increase, ultimately taking out the all-crucial $1400 resistance level.
Following that, $1800 - $2000 Gold price should come rather quickly. This is all a natural part of a significant trend shift - stock markets lower while Gold along with other precious metals moves higher - Remain patient and be diligent for now.
---
Trading Signals On Demand And What Should You Know!

The TradingSig signals on demand of the Trade Selector Signal (TSS) system are based on functions such as measuring the rate and speed of price change, volatility, momentum, and harmonics. Then filter the noise and provide a forecast...
---