Trading Market Commentary August 24, 2017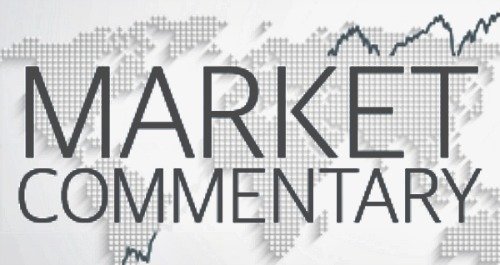 Without any important news out yet coming from the Globalist symposium in Jackson Hole, most of the primary financial markets are experiencing a calm as well as choppy sessions so far. The main equity Indexes are hanging around near Wednesday's closing prices in the US markets, while their Eurozone competitors are practically unchanged at the same time.
The chance of a US government shutdown triggered a bit of uncertainty lately, and even though the likelihood of a debt limit induced turmoil are growing, investors and traders should not be concerned about this matter. The severely overbought condition of US securities as well as the inherent lack of strength of the stock market are far greater worries, and overweighting stocks isn't a very good idea here, even though there is nevertheless intact upside trend.
US  Market
US stock market ended trading session moderately lower after exchanging a relatively thin range together with light-to-moderate volume. We were treated to a rebound in the Retail segment with plus 3% in markets on Thursday, and then, they've had a hard time for the majority of this year so far. 
It's intriguing that the VIX (Chicago Board Options Exchange SPX Volatility Index) has climbed somewhat stronger on the day by way of 0.65% even though the calendar spread is continuously narrowing: 12,32% next 12.70 after that 13.10. Another interesting point is that the Russell Index has outperformed the S&P500 this week.
Meanwhile, the S&P500 Index was 5 pts or 0.2% smaller at 2,439, The Dow Jones dropped 29 pts (0.1%) to 21,783, and the NASDAQ Composite lost 7 pts (0.1%) to 6,271.  
European Markets
Equally trading and volume was extremely quiet in Eurozone although not unexpected ahead of Friday's fun and games: All eyes and ears are going to be focused on Jackson Hole outcome once we hear from super Mario (Draghi) and Yellen (Fed Chief). 
While the German DAX30 Index crawled higher by 0.1 %, the U.K.'s FTSE100 Index went up by by 0.3%, and the French CAC40 Index finished just below the unchanged price. Traders and investors will probably be enjoying for month end figures next week as markets approach significant levels.
Asia-Pacific Market
In Asia-Pacific region, we have seen yet one more sluggish trading day with the Nikkei225 suffering once again. It had the opportunity to perform though has been pulled lower by Metals, Manufacturing, and Industrials. 
Core China's and HK's Hang Seng Indexes off-set one another with a decline in Shanghai mirroring much the same paced appreciation for the Hang Seng Index. Financials, as well as property, were in control on Thursday although did have to make-up for being shut down on Wednesday.
The Aussie's ASX200 traded positively for the entire day but can be tested on Thursday notably as Gold, commodities, and energy lose ground in US trading session. India's SENSEX Index finished small down although did watch the Indian rupee finish somewhat stronger. Volumes were very light all around with everybody looking forward to the events from Jackson Hole on Friday. 
Currency and Commodity Market
Major currencies were also in a calm ahead of the storm time, since all of the key currency pairs experienced small change for the day. Despite the fact that Euro Dollar discovered a short morning drop in comparison to the US Dollar following Wednesday's win - regained by the end of the trading session. 
British Pound pushed ahead at one point based on far better than projected data but had forfeited all gains by the end of US trading session. The Japanese Yen's currency strength through the entire week has witnessed no retracement and hovered in the vicinity 109 handle.
Most of the commodities are a little bit more proactive, as oil appears to be all set for the next lower move in its short-term down trend, closing 2% lower on Wednesday. Yellow metal continues to be hanging just under $1300 level, as traders and investors keep concentration on the US Dollar and central banks.
---
Related Pages
---
Trading signal service for you!

Curious about online trading? Want to make more money, be highly successful and have positive experiences in the niche? Welcome to TradingSig.com, a website that will...
Live Signal

The Live Signal of TradingSig.com was formed to provide high-quality signal service for the novice, experienced and professional traders. This project started out as a way to...
Trading Market Commentary August, 2017

The Trading Daily Market Commentary features a brief summary of selected market segments as well as economic matters. Its content of interest is made available to all our...