Market Commentary & Analysis January 8, 2020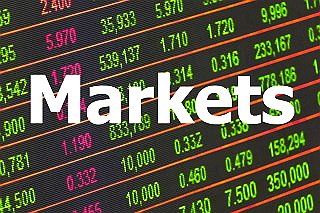 In the overseas precious metal market, the price of Gold has soared $37 above $1,611, and crude oil has risen 5% on headline news of an Iranian missile attack on an American basis in Iraq. 
The Gold and Silver market are penetrating the highest price levels since 2013, and DJI Average futures tumbled more than 440 points as the conflict in the Middle East intensifies. As this writing, the indices prices have rebounded into positive territory. 
Weak shorts in the Gold and Silver becoming considerably squeezed even as the massive commercial player's short positions did tap record levels. 
The current price increases are due to the insanity over the Iran situation. Yet the Gold prices are up almost 20% over last year in all currencies; however, there has been an abundance of other factors pushing the prices higher before the Middle East conflict.
Silver Technical Analysis and Outlook: Here is a look at Silver chart knocking on Inner Silver Rally $19.21 door - It is presently retreating from powerful Mean Res $18.62, and I would fancy that there is nothing can stop it in the intermediate time-frame to advance to Outer Silver Rally $20.15 flagged initially on August 28, 2019.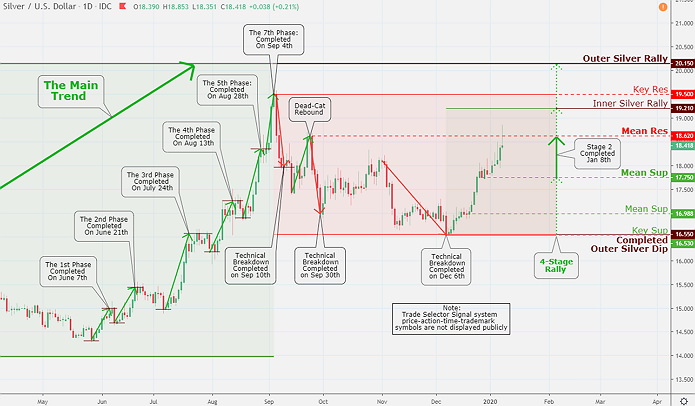 Click the Image to Enlarge
×
Stock market action

The broader S&P 500 market wavered with moderate losses on Tuesday's session, posting a decline of 0.3% as the current geopolitical scene darkness helped contain the risk sentiment. 
The DJI Average posted -0.4% mark and small-cap Russell 2000 index -0.3% posted similar declines, while the heavy-technology Nasdaq Composite index fared better amid strong vitality in the semiconductor sector posting a tiny loss of 0.03%. 
Within the equities, all eleven S&P 500 index sectors ended lower in a dull trading session. The real estate sector with -1.2% posting was Tuesday's most vulnerable performer, followed by the consumer staples sector with -0.7% loss and financial sector posting -0.7% loss as well. 
The S&P 500 index faded into the closing session by pushing the communication services sector to -0.04%, information technology sector to -0.1%, and industrials sector to -0.1% territory.
The semiconductor stocks were amongst Tuesday's session the most influential players after Microchip Technology jumped +6.96 or +6.7% announcement of raised revenue guidance for the Q3. 
Micron Technology with +4.71 or +8.8% gain was upgraded to Outperform from Market Perform at Cowen with a price target of $70 per share, up from $50. The Philadelphia Semiconductor Index climbed 1.8% for the day.
Other celebrated gainers involved Apache Corp. posting +6.87 or 26.8% highest gain in nearly 50 years after company announcement of striking oil off the shore of Suriname, and Tesla Inc. posting an increase of +17.52 or +3.9% after it formally inaugurated its Gigafactory 3 factory in Shanghai.
The United States Treasuries ended the tight-ranged trading session with a small change. The Two-year yield settled at 1.54%, and the Ten-year yield rose two basis points to finish at 1.83%. The United States Dollar Index (DXY) increased by 0.36% to close at 96.97.