Market Commentary & Analysis December 18, 2019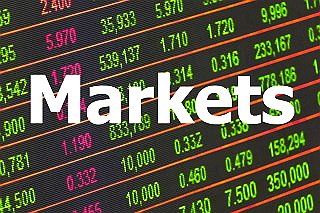 Along with the futures market, Santa rally continues. We also see that Bitcoin was trading in a narrow range that manifested following the last two day's dives, while it resides slightly above its November 25th low. 
In a technical setup, the coin obsoleted the Key Sup 'BARC' $6,910, and the sentiment is very bearish even for the moderately stable crypto coin. A decline below the November low is very much likely while advancing towards Inner Coin Dip $6,000.
I know that will keep you up today, hunkering on the edge of your comfy chair.  Well, we ought to advise and see someone about that.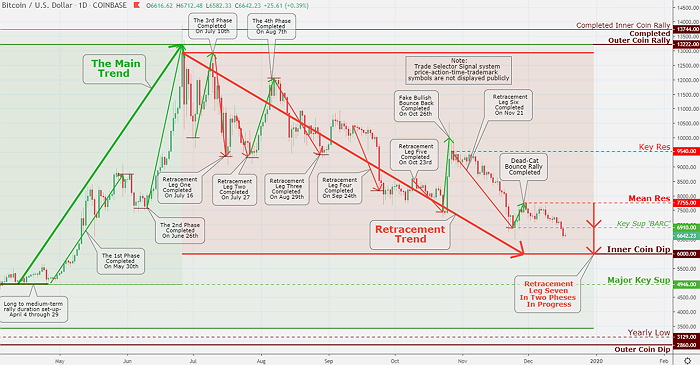 Click the Image to Enlarge
×
Market action
The S&P 500 market finished about even with a +0.03% gain yesterday in a very tight-ranged and dull trading session. However, it was nevertheless technically speaking another record close.
Joining the broader index DJI Average with +0.1% and Nasdaq Composite index with +0.1% advanced further in record territory as well. The small-cap Russell 2000 index bettered with a 0.5% gain on the day. 
Overall it was a relatively tranquil trading session in terms of new market developments, although the much better than anticipated last month numbers for building permits, industrial production, and housing starts helped augment the stock's positive economic standpoint. 
Six of the eleven S&P 500 index sectors did end lower, with the weakest market performer being the real estate sector posting -1.2% on the day. No other index sector finished down larger than 0.2%; the information technology is one.
Fittingly, the cyclical sectors of the S&P 500, such as consumer discretionary posting with +0.6% and financials with the +0.5% print bettered the broader overall.
We may be in the decisive journey moving higher, although it could last into early next year - Middle January. Because under unusual conditions, which flagging upcoming Outer Index Rally marked at $3,265 outcome.
But, since there are infinitely many 'Juggling Balls' in the air such as impeachment proceedings against President Trump, Boeing considering axing 737 Max production, the British are still not quiet all-in with Brexit prospect, and finally a spy conflict with the Chinese: An Outer Index Rally $3,265 failure globally isn't off anyone's market board.
The Federal Reserve repo activity is placing candy in stockings these days, promising lots of financial liquidity reaching into year-end trading.  To prove it, on Tuesday involving $53 billion worth of diverse debt instruments in 'repo operation.' It must be said though, that is just several weeks earnings for high rollers like us, right?
Other markets

United States Treasuries closed little changed. The Two-year yield finished flat at 1.63%, and the Ten-year yield settled unchanged at 1.89%. The United States Dollar Index (DXY) increased by 0.2% to close at 97.18. West Texas Intermediate (WTI) crude oil rose $0.36 or 0.60%.

---