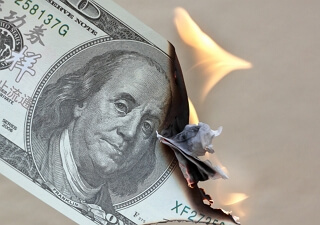 Inflation can be conquered. Unlike "sucker yields" – stocks that pay out far too much compared to their share prices – Sleep Well At Night (SWAN) stocks have sustainable dividends and strong businesses supporting them.
Altria (MO) is one excellent example of a SWAN. This tobacco company has a 190-year-old history and yields 8.5%. This includes a 6% dividend hike at the end of August.
Today that amounts to an annual $3.82 per share. Here's what sets that impressive dividend apart from sucker yields…
On top of its history and solid plans for the future – which, incidentally, include the phasing out of cigarette sales altogether – its dividend is well-covered by $4.84 in 2022 earnings; how is that to gainsaying inflation?
In other words, Altria is making more than enough money to pay its dividend… raise it… and grow its operations from here.
Speaking of which, Altria has raised its dividend every year for 53 years straight. That makes it a dividend king: a company that boasts a half-decade or more of increasing its payouts.
That kind of track record isn't a guarantee it'll continue. But you'd better believe Altria has no intention of ruining it unless faced with a full-on catastrophe.
It also intends to grow that dividend. If everything goes as planned, that will be about 5% annually – about 3% faster than the bond market's 30-year inflation estimates.
Here's what that means in simpler terms: A SWAN stock like Altria, with its safe 8.5% yield, offers not only dividends you can count on but exponentially more inflation-adjusted income over time.
Inflation has zero on SWANs. Now, dividend kings don't grow on trees. Nor does your "average" SWAN. But they are out there. For today's purposes, let's stick with Altria to show how much SWANs can positively affect your portfolio.
Had you bought Altria in 1986 (as far back as the system measures) and reinvested its dividends… your dividend income stream would have grown to $25 for every $1 spent.
That's an incredible 18% annual income growth over 36 years, thanks to the double compounding of exponentially growing dividends and shares.
Or, to put it another way, buying Altria back then and reinvesting all the dividends would have left you with the kind of money that retirement dreams are made of.
And even if you hadn't reinvested those dividends, you'd still be looking at an incredibly reliable income stream growing at 2.5x the rate of long-term inflation - That's the power of a SWAN.