Indices Market: News, Analysis, And Ideas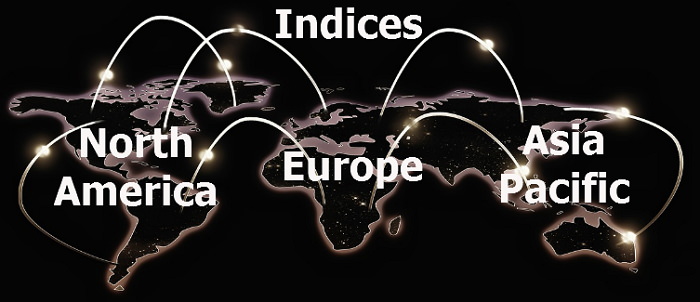 May 4, 2018 Market update: The earlier weakness of Dow Jones with minus 400 points had placed the drop to around 12% from January highs and approximately 4% Year-to-date (YTD). The turmoil is an increasing stock market along with climbing interest rates. It's anticipated that the Federal Reserve might hike an additional three times this coming year, producing a more robust US Dollar, quite a few pondering if this could and with jobs employment close to capacity. 
Inflation elevated the news headlines however only merely. Yet, if we see a severe print on Friday, this definitely will wake everybody up! The Bond market was trading weaker in front of the US number release. However, the shake-up then brought back the fixed-income markets for both sides on the water and also once again flattened the yield curve. 
The recovery in mid-session emerged following a knockback of the 200-day MA (moving average) that many participants (Not yours truly) prefer to work with as a long-term market indicator. More data and numbers today so will be intriguing to find out exactly where market close for the week.
April 27, 2018: Stock indices and data from many bellwether companies had equities gyrating this past week as first-quarter earnings season continues. S&P500 earnings show that numbers were on track for a 24 percent YOY (year-over-year) gain.
In the meantime, a sequence of better-than-expected economic numbers nudged yields of the Ten-year US Treasury which temporarily went over 3 percent for the very first time seen since January 2014, however by week's conclusion, accumulated returns have given up all of their advances.
The main shift in higher US Treasury yields emerged amid a variety of healthy economic numbers. Consumer confidence and new home sales rose a lot more than anticipated, and also joblessness data reached their lowest level ever since the year of 1969 - If you can believe that!.
Key Eurozone stock markets advanced even while economic momentum persistently is weakening. ECB (European Central Bank) Cheif super 'Mario' attributed the slowing down following the European Central Bank living its interest rates and monetary policy unchanged at this week's assembly meeting.
Confidence measures in France, Germany, and Italy all decreased, and also the Great Britan's economic climate recorded its slowest first quarter of growth in well over five years.
Asia markets were mixed. In export-oriented Japan, equities gained once the Yen currency joined up with several other vital foreign currencies in retreating up against the US Dollar, and the BoJ (Bank of Japan) followed the European Central Bank direction and left interest policy rates unchanged at its assembly meeting.
April 23, 2018: Indices on Wall Street started-out very well, however, ended up being hit as the energy price reversal, bond yields, and commodities segment weighed on encouragement. Despite the fact that 3% Ten-year Treasury has been prevented on intraday, it remains up for grabs for this week.
There was no 3% handle ever since late of 2013 when volumes of prints had been light, and so they administered an up-tick on the late session of Christmas Eve; before that it is was back in the year of 2011. This is being ingested by stock markets at this time and thus will most likely lessen the effect as soon as realized.
All Indices concluded the trading day with only small losses. Currency is definitely the primary key element for this week. It's well worth keeping an eye on this especially when it sets out to increase the speed of the capital move into the United States.
The US Dollar reversal has been the main reason Eurozone Indices faired nicely on Monday. With positive early on American trading session which aided sentiment however the turn towards the Wall Street close has witnessed Eurozone futures trading join the drift smaller.
Asia markets attempted to stay positive on Monday; however, shortly after the opening bell, we were back into the red zone again with initial volume growing. Nonetheless, apart from Nikkei Index, China's Shanghai and Hong Kong's Hang Sang this had been the case. 
The Nikkei Index shed 0.35% but what made matters a whole lot worse, is that it mixes with the Yen's currency 1% downfall on Monday which is advancing towards the 109 handle. So, it was the currency markets which dominated a great deal of the talk Monday session and that throughout all time zones.
April 21, 2018: Global stock markets leaped higher at the beginning of the week following past weekend's 105 missile attack on Syria by US, France, and the UK. This being proven more minimal than anticipated, Beijing and Washington exhibited signs of favorable development on trade issues, and news reports of talks involving North Korea and the US encouraged a decreasing of tensions between the two nations.
As the trading week moved on, anticipations of robust first-quarter earnings fully extended the rally, despite the fact that indices had been pulled back on Thursday as well as Friday despite concerns regarding smartphone and semiconductor revenue forecasts.
In commodity segment, additional sanctions on Russia delivered many industrial metal prices rising, and the risk of re-imposing further sanctions against Iran, together with a larger-than-expected drawdown of crude oil inventories, boosted the black gold commodity prices to their highest levels in more than 36 months.
---