Bitcoin Market Commentary & Analysis October 27, 2019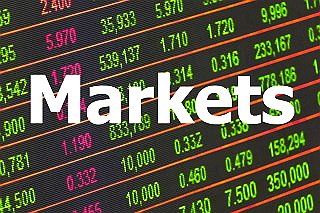 The Bitcoin market experienced a massive blowout as the coin surged over $1,200 on Friday (October 25) and almost $1,900 on Saturday (October 26). This is the most significant daily gains since 2011.
The granddaddy coin spiked above the primary resistance level of the Maginot Line, $10,000 after moving out of its Inner Coin Dip $7,474. The cryptocurrency extended its bounce close to Key Res $10,865 as bulls defended Friday high.
Midweek Bitcoin market
On Wednesday, the Bitcoin market quickly dropped after failing to sustain above the Mean Sup 'BARC' $7,870. By Thursday, the coin was resting on the bottom of the Inner Coin Dip $7,474, and many investors and analysts were screaming for a drop even lower. 
Many even predicted that a revisiting the short to intermediate-term $6,000 level was in the cards. Notwithstanding the bearish bias, the readers of this website were very much aware of Trade Selector Signal (TSS) recognition earlier bullish reversal with the bold statement 'Do That To Me One More Time.' 

By Friday morning, the Bitcoin market exploded, with the daily chart (And faster sixty-minute chart) flashing Inner Coin Dip $7,474 completed as beaming bulls observed a quick upside move to Mean Res $8,560.

However, many traders and investors expected that bears would unfold their aggressive short positions at the level and ultimately push the coin price back down to the by now print of Key Sup $7,430 'BARC.'
However, bear in mind Friday's and Saturday's moves only signifies a countertrend rebound to completed Inner Coin Dip; however, should Bitcoin sustainably recapture Maginot Line $10,000 and Key Res $10,865 levels and stay there, the BTC/USD could move higher.
While Saturday's rally is a comforting time for bulls, the fact that the Bitcoin market is still relatively weak technically speaking and presents follow-up rally endeavor suspicious - The short to intermediate-term trends could flip bullishness market segment into bearishness.
Investors and traders should nevertheless stay away from entering any new positions at this point unless otherwise flashed by TSS well-formed buy or sell signals - You are witnessing, the headline news is not just reporting the story; it's supplementing TSS earlier prediction into the future of the Bitcoin market.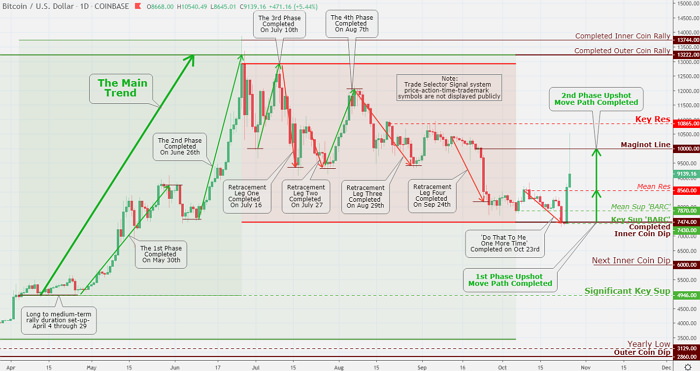 Click the Image to Enlarge
×
S&P 500 market
The broader S&P 500 index advanced for the third consecutive week, advancing 1.2% and almost setting new record highs as traders and investors remained delighted with Q4 earnings reports.  
The DJI Average climbed 0.7%, the heavy-tech Nasdaq Composite surged 1.9%, and the small-cap Russell 2000 index rose 1.5%. 

As the index leaving the Key Res $3,026 behind and ramping higher, the session closing record high and sneaking within 0.6 points of the historical intraday record high of $3,028.
Forex market
The U.S Dollar index (DXY) is in line to post a bullish reversal which would require to be confirmed with a retest of the Key Sup (BARC) $97.15
But, there has been one 'precious' angle of the U.S. Dollar, which now changing with completion of Inner Index Dip $97.15. Possibly until next week, the DXY will move very considerably until it hits the Mean Res 98.40. 
The Euro Dollar bearish price action is in a corrective mode and well established following completion of the Outer Currency Rally $1.1173, and formed Key Res $1.1173 'TARC' - Sell signal.  

This could worsen as the price was to drift to the support zone of the Mean Sup $1.1031. The $1.1031 price level from this position is essential 'rapid-fire' short-term traders buy decision zone.

Precious metals market
Gold held a significant level of $1,500 price, which is a bullish setting, following completion of the Outer Gold Dip $1,460 and validating with Key Sup of $1,473 (BARC), while staying above Maginot Line $1,475 since October 1. 
Ahead now is Mean Res $1,533. A breach of that would validate a breakout and leave the door open for the Gold to trend higher to Key Res $1,550 and retest of completed Inner Gold Rally $1,555, then launching significant move to Outer Gold Rally $1,590.
A very similar road-map is now taking place in the Silver market. Silver also completed Siver Dip $16.92, validating with Key Sup $17.00 and 'BARC' symbol, while holding the Maginot Line of $17.50.

The price action within and above the $17.50 against the $17.00 Key Sup has this week sparked rally towards the resistance level of $18.60 that came from the highs created on September 24. A close above Mean Res $18.60 there would be a breakout and unlock the way initially to Key Res $19.50 and then next Outer Silver Rally $20.15.

---