Bitcoin Market Commentary & Analysis November 23, 2019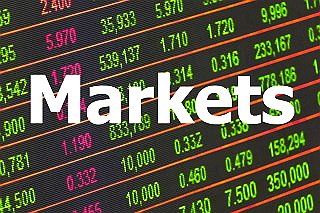 The Bitcoin initiated the trading session at $7,616 and entered a sharp drop to find lows of $6,775 - a loss of slightly over 4%. As of this writing, Bitcoin price has been driven back over $7,100 with bulls exhibiting interest in price levels beneath the $7,000 handle.
The loss in the most popular coin valuation has pulled the entire cryptocurrency market down with a well-known loser being Ether coin, which has lost vital support at $152 and posted lows of over -10% by closing at slightly under $150 handle.
Granddaddy coin dominance is upward for the week posting a 69% gain, meaning that coin has bettered the rest of the cryptocurrency coin market throughout the sustained decline this past week.

Bitcoin technical analysis and outlook
Bitcoin is down and trading under our Key Sup 'BARC' $7,430 and completed Inner Coin Dip $7,474. The price is declining towards Trade Selector Signal next Inner Coin Dip $6,000. 
While very significant Key Sup $4,946 of the spring of 2019 bull run is looming beneath, currently, the Bitcoin is finding no support with leg seven paths, and sell off sentiment is very biased.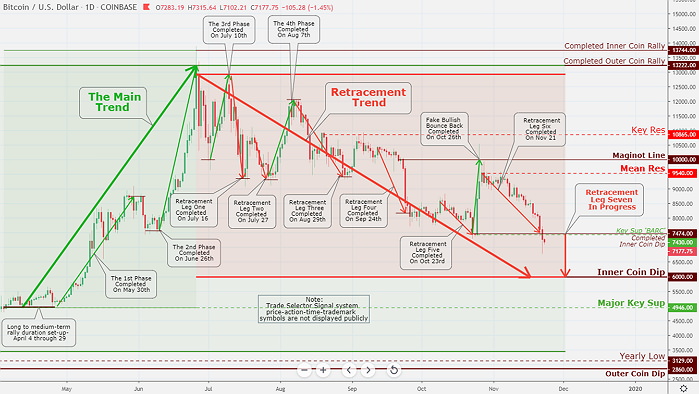 Click the Image to Enlarge
×
Other market rest of the story

The broad S&P 500 index cracked a six-week winning trading streak, even though it faded just 0.3% this past week. The DJI Average dropped 0.5%, the Nasdaq Composite index surrenders 0.3%. 
And the small-cap Russell 2000 index declined 0.5% performing in-line with the significant bench-marking index this past week, revealing a broad-based failure to provide conviction. 
The trading week commenced with the large-cap indices ending on Monday with incremental record highs; however, most stocks eventually struggled for the direction for the remainder of the week. 
The S&P 500 materials sector posted a negative 1.7% drop, while the real estate sector printed minus 1.2%. The health care sector ended with a plus 0.8% gain, the financials sector added an extra 0.5%, and the utilities sector showed an additional 0.2% finish.
Elsewhere, the United States bond market encountered some curve-flattening action this past week. The Two-year interest yield rose two basis points to conclude at 1.63%, while the Ten-year note yield faded six basis points to finish at 1.77%. 
The United States Dollar Index (DXY) increased by 0.3% to close the week with 98.26 gain versus the other major currencies. West Texas Intermediate crude oil improved by 0.2%, or $0.13, to post a $57.88 finish for the week.
---